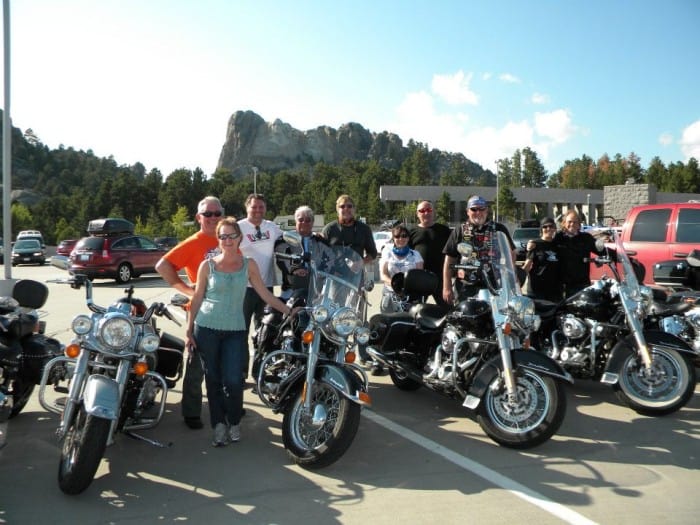 Sturgis Rally and Colorado / Yellowstone Motorcycle Tours

Explore America on a Harley Davidson motorcycle on the ride to the Stugis Motorcycle Rally. Join us for a motorcycle adventure on tour through Yellowstone Park, Montana, Colorado, the Grand Canyon, Monument Valley, and Las Vegas.
We are the OLDEST MOTORCYCLE TOUR COMPANY IN THE USA, since 1993. We are not the largest, fanciest, or most corporate tour company; we are a small tight group of friends who love taking you on tour and making new friends from all over the world. The Team CONTACT US Testimonials Pictures Mission

IT IS TIME TO BOOK YOUR 2020 STURGIS MOTORCYCLE TOUR NOW!


What's Included Sturgis All Inclusive Motorcycle Tour– Gas, Tour Guide, Support Vehicle with driver , National Park Fees, Motorcycle, Lodging.

Contact for 2020 Sturgis Dates – Book 2021 Now!

Colorado / Yellowstone Tours – Same as above tours but not a the busy Sturgis time.
Looking forward to The Bear Tooth Highway- An amazing ride.


---
9 DAY 8 NIGHT TOUR
We leave from either Denver or Salt Lake City. Then we take a couple of days through incredible roads to get to Sturgis, where we spend 2 great days while riding The Black Hills in the morning.
Then we work our way through amazing rides and amazing places on our way back through Colorado and surrounding areas.
more detail coming soon.
This will be an incredible ride and adventure.
12 DAY 11 NIGHT TOUR – YELLOWSTONE AND STURGIS
We start in Denver, and head to Sturgis for 2 day while riding the Black Hills in the morning.
Then we head to and though Yellowstone, Colorado, then back to Denver.
15 DAY 14 NIGHT
Like option two, but more time to explore
13 DAY 12 NIGHT
Info below
Sturgis Guided Motorcycle Tour™ – Guided Motorcycle Tour
TRIP DETAILS BELOW MAP
13 Days / 12 Nights
Distance – Miles : 1335 / Kilometers : 2149
Seasons – Summer
Temperature : 100° to 50° F / 38° to 10° C
Reservations must be booked and paid in advance
DAY 1 – DENVER, CO
Welcome to the Mile High City of Denver, Colorado. Today begins the first day of the tour with the arrival at your beautiful hotel located in the heart of downtown Denver.
DAY 2 – DENVER, CO TO STEAMBOAT SPRINGS, CO – 156 MILES / 251KM
Our tour kicks off as we hit the road and wave good-bye to the capital city of Denver. Get ready for a breathtaking ride through the Rocky Mountains on our way to Steamboat Springs. We will pass through the majestic White River National Forest on our left with Rocky Mountain National Park and its snow capped mountain tops on our right.
DAY 3 – STEAMBOAT SPRINGS, CO TO GREEN RIVER, WY – 230 MILES / 370 KM
Today we make our way northward to the desert oasis mining town of Green River, Wyoming. As we cross the state line we leave the lush forests of Colorado in the dust and set our sights on the treacherous desert cliffs and mesas of southern Wyoming. This ride is what the "American Wild West" is all about. You can almost hear the faint hiss of the rattlesnakes behind the roar of our bikes!
DAY 4
Continuing northward, we head for the famous tourist stop of Jackson (known by many as Jackson Hole), Wyoming. This city is not only celebrated for it's recreational skiing, but is also known as the base of Grand Teton National Park which contains a portion of the majestic purple Rocky Mountains. Our national song, America The Beautiful, croons over THIS specific area.
DAY 5 – JACKSON, WY TO CODY, WY – 177 MILES / 285 KM
Today we are graced with a truly incredible view as we leave Jackson, Wyoming and make our way to Cody. Passing through Grand Teton National Park and the crystal clear waters of Jackson Lake we approach a favorite stop of ours–Yellowstone National Park. Known to many as one of the Natural Wonders of the World, Yellowstone is the home to some of the most death-defying canyons, awe-inspiring waterfalls, and active volcanoes. Warning! Keep your eyes pealed as it is also known as the home of hundreds of unique species of Grizzly Bears, wolves, and free-ranging herds of bison and elk.
DAY 6 – CODY, WY TO BUFFALO, WY – 181 MILES / 291 KM
From Cody, we point our bikes eastward for the coal mining town of Buffalo, Wyoming. We will pass through Bighorn National Forest where black bears and moose roam its infinite depths and trout fill its numerous lakes. Enjoy the quiet serenity of nature before we make our way to the excitement of Sturgis.
DAY 7 – BUFFALO, WY TO STURGIS, SD – 184 MILES / 296 KM
While many enjoy the tranquility of the vast span of forests, lakes, mountain ranges, and canyons, the highly anticipated trek to Sturgis finally begins today! Before passing into the state line of South Dakota we'll pass through the town of Sundance, Wyoming, home of infamous American Old West outlaw the Sundance Kid. Next we'll cruise into the town of Sturgis South Dakota and enjoy the week's festivities with fellow bikers from around the world.
DAY 8 – STURGIS, SD
Sturgis Bike Rally and local travel
DAY 9 – STURGIS, SD
Sturgis Bike Rally and local travel
DAY 10 – STURGIS, SD
Sturgis Bike Rally and local travel
DAY 11 – STURGIS, SD TO CHEYENNE, WY – 306 MILES / 493 KM
We may be sleep deprived after all of the Sturgis festivities, but we press on leaving the Black Hills in our mirrors headed for Cheyenne Wyoming home of the American Cowboy. This capital city of Wyoming boomed with the construction of the Union Pacific Railroad in the late 19th century bringing cowboys and outlaws alike to its city limits. Back in the frontier days, Cheyenne was home to the largest outdoor rodeo in America. Today, we will relive that tradition as we ride past its saloon studded posts. Overnight in Cheyenne.
DAY 12 – CHEYENNE, WY TO DENVER, CO – 101 MILES / 163 KM
Today concludes our tour with the final leg of our ride from Cheyenne into Denver, Colorado. We ride with the Rocky Mountains smoldering in the west reminding us of the memories and friendships we've made along this incredible ride.
DAY 13 – DENVER, CO DEPARTURE