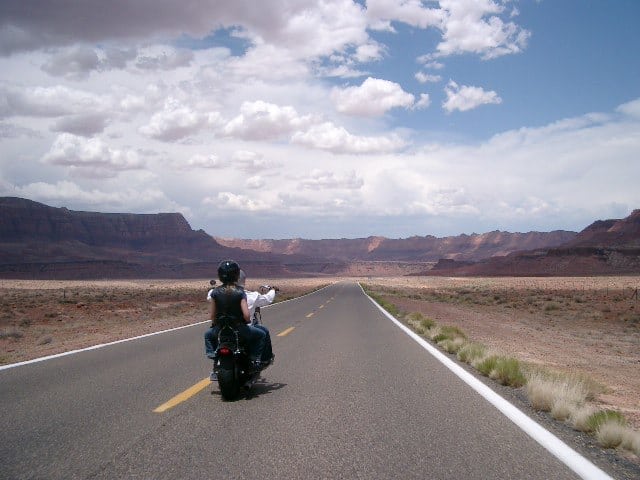 USA Nationwide    California Pacific Coast Highway     Rt 66  Grand Canyon  Death Valley     Monument Valley     Route 66 Chicago to LA     Sturgis     Yosemite         Yellowstone    Las Vegas     Washington D.C. Blue Ridge Mountains  American History Tour     American Music     Colorado     Bryce Canyon     San Francisco     Los Angeles  Big Sur     Alaska     Canadian Rockies     Hawaii

Complete Tour List Below
Why Do a Self Guided Tour versus on your own?
The most capable and experienced riders often choose the self guided tour option versus trying to figure it all out on their own.  They realize they are probably only going to be here once, and want to make the most out of their trip.  You can still add other things you want to do, but it gives a solid foundation for your trip.  Read the testimonials at the bottom of the page.  With my 20 plus years in the touring business, I would not consider personally going to an unknown area and trying to figure it all myself, I would rather spend my time having fun.
What Is Different About Ride Free Motorcycle and CAR Self Drive Tours?
If you are looking to call up and talk to a hired phone receptionist, that will quickly give you a generic trip made for all. That is not us.
When you contact Ride Free. You talk to an actual experienced tour guide. Every self drive trip we do is tailored to you. We help you pick out the best bike or car for your trip.
Talk to you about the trip your are interested in, the time of year, and find out about you. What you are looking for.
Then we can give you suggestions and do modifications to the standard self drive tour that caters to your interests and riding style. Whether you would rather ride more or less hours a day, want challenging mountain side trips, or just take it easy.  Contact us
Custom Tours — If you want to ride half days and do other activities,we can help with that. Trout fishing, deep sea fishing, whale watching, horseback riding, shooting guns, white water rafting, helicopter rides, sailing, hiking, off road jeeps, etc.
We also spend personal time with you in your planning and preparation. And, on the road we are here to help you in any way we can. Just a phone call away. You do not get lost in the shuffle at Ride Free. We are focused on quality, not quantity.
Complete custom self drives available, or modifications to existing.
From the time you arrive to the airport, to the time you shuttle back to the airport. We have it planned.
MOTORCYCLE OR CAR RENTALS AND SELF GUIDED TOURS
Just need some Motorcycles? — Harley Davidson, Honda, BMW, No problem.
Self Drive — What's included: motorcycle, lodging, route, day to day itinerary, activities and highlights to do and see along the way, and at your destination, help choosing the best route for you, help and support before, during, and after your adventure, trip planning help.
Choose one of our Listed Tours — to be Self Drive, or we can make you a custom tour.
Self Drive Without Booked Hotels — We can do that also. But realize that some of the best hotels and most popular areas get booked up months in advance. If you just show up that day you might have a long drive off the mountain to find a hotel.
Custom Tours — If you want to ride half days and do other activities,we can help with that. Trout fishing, deep sea fishing, whale watching, horseback riding, shooting guns, white water rafting, helicopter rides, sailing, hiking, off road jeeps, etc.
CLICK FOR MOTORCYCLE  TOUR MAPS AND OPTIONS
CLICK FOR CAR TOUR MAPS AND OPTIONS – OR MAY USE MOTORCYCLE OPTIONS
Custom Tours and Self Drive Harley Davidson and car Tours Available:
Motorcycle, late model car or muscle car, or classic car tours
From basic economy tours to 5 star Luxury Tours
Tours with late model convertibles and exotics
5 day, 1 week, 2 week, 1 month, or any length self drive tours available.
Custom routes anywhere / anytime in the USA for your group
Chicago to LA – Cross Country – San Francisco to LA
Custom Take your time tours available
Where you slow down, fish, hike, multiple nights at one location
or short morning rides to new location, explore more etc.
Business, organization, church groups
The Below Charts include: Day 1: Hotel on Arrival Day, tour, hotel when arrive to destination, departure day
Example:  10 Day 9 Night = 10 days total, 9 hotel nights, 8 rental /travel days.  Day 1 is arrival day, Last day is just departure day.  Hotel is included in Day 1, but not the last / departure day.
-add one way return fee per bike depending on destination –  $595 Chicago to LA –
BELOW CHART IS JUST ESTIMATIONS: SPECIFIC TOUR/ REGION TOURING / AND MORE DETERMINES FINAL PRICE
Contact for specific quote for your trip
Motorcycle Insurance Waiver Options
Self Drive Tour – Per Person 
3 Day 2 Night
1 Driving Day       
4 Day 3 Night
2 Driving Day     
5 Day 4 Night
3 Driving Days     
6 Day 5 Night
4 Driving Days   
7 Day 6 Night
5 Driving Days  
Self Drive 2 Drivers 1 room
$387
$674
$961
$1248
$1535
Self Drive 1 Driver  1 room
$583
$966
$1349
$1732
$2115
Self Drive Tour – Per Person     
 8 Day 7 Night
6 Driving Days
 9 Day 8 Night
7 Driving Days
  10 Day 9 Night
8 Driving Days
  11 Day 10 Night
9 Driving Days
12 Day 11 Night
10 Driving Days
Self Drive 2 Drivers 1 Room
 $1850
 $2280
 $2490
 $2880
$2973
Self Drive 1 Driver 1 Room
 $2495
 $2990
 $3390
 $3769
$4036
Self Drive Tour – Per Person 
13 Day 12 Night
11 Driving Days       
14 Day 13 Night
12 Driving Days       
15 Day 14 Night
13 Driving Days     
16 Day 15 Night
14 Driving Days    
17 Day 16 Night
15 Driving Days
18 Day 17 Night
16 Driving Days
19 Day 18 Night
17 Driving Days
Self Drive 2 Drivers 1 room
$3257
$3524
$3801
$4080
$4405
$4692
$4989
Self Drive 1 Driver  1 room
$4401
$4767
$5133
$5499
$5945
$6328
$6731
Motorcycle Insurance Options (click)
SELF GUIDED TOUR TESTIMONIALS
1: Don't let this happen to you.  This is from a customer in April of 2017 that did not pay a little more to do our quality self drive:
Hi Wil
Our budget did not allow the higher cost and we had to settle for ________. What a pity as I already complained about the absolutely filthy places we had to stay. I lived in Backpackers lodges on previous bike trips in South Africa. They were clean and acceptable though. I now understand your warning about the cheapest hotels. I spent extra on a different hotel tonight as the $57 hotel we were booked in is simply too sick. For a little more $ we got a lot better place. Sorry we could not have taken your trip. Hope to see you on a bike trip in South Africa some day. Let me know and we will host you in our are. Kind regards C
2: This person decided to do a Ride Free Self Guided Motorcycle Tour after being skeptical
Hi Wil (& Erin)
Sorry I haven't gotten around to this sooner – things got a bit hectic after our vacation!
I just wanted to say that we can't thank you enough for everything you did for us. We had such an awesome time, and this was so much thanks to you. In the beginning my brother-in-law was skeptical and thought we could figure it out ourselves. But after a few recommended stops, our mantra was "do exactly what Wil says". All of the food places and things you recommended were worthwhile, so we felt like nothing was a waste.
The other part that I am so grateful for, was your assistance in helping us have a great day after our Big Sur disappointment. (Ride Free:  the rains washed out the road ) Your follow-up, and care in helping us recover was really cool.
I am not sure what would be most helpful to your business in terms of reviews and testimonials – but I am happy to do whatever you think will give you the most recognition. Just let me know whether Yelp, Facebook, TripAdvisor or your website (or all of the above) are helpful and I will get to writing some reviews.
I could tell right away that you were going to be great people to work with, and that was totally true. I hope you and your family have a brilliant year and we will hit you up again for a tour somewhere else soon.
Regards,
Phil

3: The types of places we stay in etc:
Hello Wil and Erin. Just a short note to thank you for the 'BEST VACATION EVER'. Both Brian and Andy were exceptionally professional and it is fair to say that that trip would not have been as good without the professional and friendly banter between the group and the guides.  They were well able to cater for the differences in the group and this aided the holiday. The locations, lodgings and roads traveled matched and, sometimes, exceeded our expectations.   On at least two occasions the accommodations were part of our dreams.   ( Log cabin on a lake ) Meals and locations for meals were fantastic.   Even on the two occasions where Brian had to think on his feet due to changes or closures the replacements were great. I am a bit concerned regarding just how good the Harley Davidson motor cycle is and unfortunately for me it looks like I am going to have to review my Suzuki Boulevard now as the result that Judy enjoyed sitting up the back of the ultra glide in her arm chair.   According to Judy the ride is much smoother also.   After talking with Brian I feel that I must check out the Indian as well however, I spit on BMW's still.  I acknowledge the small issue that we had with our bike was nothing that you could have prepared for and it did not dampen our tour or our enjoyment of the tour. We are currently still doing our sums regarding next year but hopefully in a month or so we will be able to inform you regarding the Route 66 trip in 2017. In closing I would like to say again that our holiday was fantastic and this was largely due to the hard work and professional attitude of both Brian and Andy.    We will be recommending them and the Ride Free company to all our friend and company here.   If ever you get to Australia there is a bed at our house for you all. Thank you. Bill and Judy – Australia – 2016 Canadian Rockies Guided Motorcycle Tour