THE TEAM – tour guides and staff

We are the OLDEST MOTORCYCLE TOUR COMPANY IN THE USA, since 1993. We are not the largest, fanciest, or most corporate tour company; we are a tight group of friends who love taking you on tour and making new friends from all over the world.  Ride Free is a Fully Insured Tour Company.  
Wil Sakowski — Mechanic, Guide, Sales, Owner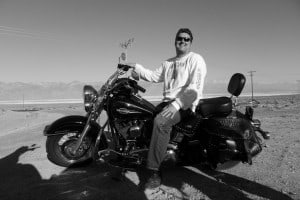 When Wil is not on tour, he is running his Classic Car and Motorcycle Hot Rod Shop and Dealership Sakowski Motors. He finds cars and motorcycles then ships them to people Worldwide. He is also a mechanic prepping our fleet of Ride Free Motorcycles and Classic Car Rentals.  Sakowski Motors builds and repairs classic cars, hot rods, motorcycles, and customs.  "I go on tour and am part of RIDE FREE and Sakowski Motors because I love the adventure and meeting incredible people from around the world, and being part of making people's dreams come true.  It is an honor and privilege for someone to trust us with their adventure or classic car."
Wil has ridden motorcycles and driven classic cars all over the entire United States on many road trips.  His 1954 Buick has been for many years his only car transportation with around 200,000 miles driven on it, reliably taking him all over the USA.  Before that a wheelie pulling 700hp plus 150hp hit of nitros 1967 Camaro was his daily commuter for many years.
He has also commuted on a daily basis on the Los Angeles Freeways by motorcycle, as well as run a GSXR 750 at the track.  The bike he has owned the longest is a old KZ 1000 built street fighter style with a big bore kit, air shifter, and nitros oxide.
He is also an avid California and North Carolina surfer, and has boxed and practiced as well as taught Seiou Kai full contact karate.  When he is not on the road or at the shop, he spends all his free time with his wife and two daughters.
Wil and Erin spent part of their honeymoon years ago on a Ride Free Tour.
Andy – Tour Guide and Van Driver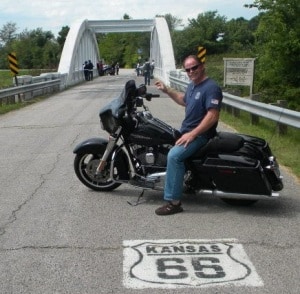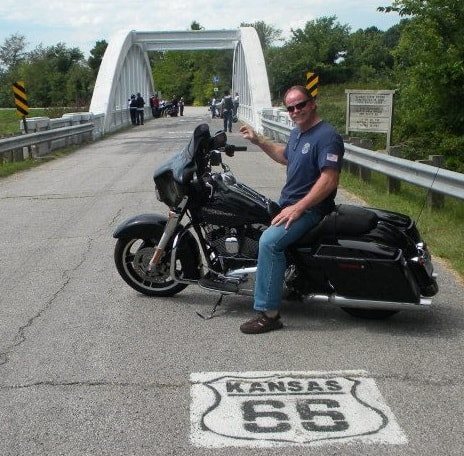 Andy is a retired California firefighter and captain of 29 years. He has been happily married for 26 years and has 3 boys. Since retiring from being a firefighter, he has become a local handyman in his community.  He enjoys fitness and being fit (carried from high school and college football days) by utilizing the gym and mountain biking. He also enjoys backpacking, camping, golfing, boating, ATVs and traveling adventures. He has owned motorcycles throughout his life. His first mode of transportation was a Honda CB350 and his most recent a Kawasaki KLR 650. He has also owned a Honda CB750, a Honda Shadow 650, a Honda Goldwing Aspencade, and a Honda VTX 1800.
Bobby  – Tour Guide
Bobby (sunglasses)  is one of Wil's oldest friends.  They make a great team on the road. He has lived both on the east coast and in Los Angeles, commuting by bike on the LA Freeways. He has explored the USA by classic car as well as motorcycle.  Bobby has also had many classic cars as his only daily transportation.  A 1955 Chevy Bel Air and a 1959 Chevy Apache truck. He enjoys riding motorcycles, photography, being a musician, and painting. Bobby owns and runs the Sol Cooper Art Gallery. But he also restores old buildings, and used to play rugby. Bobby is a great guy to spend time with on the side of the road. You always have a nice time hanging out with Bobby. A ride free rider favorite.
Sam – Tour Guide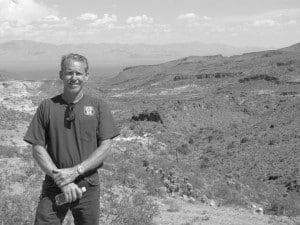 Sam is a California native that has been riding motorcycles around California and the USA for 41 years.  He has been a professional tour guide for over 5 years.  He is also a professional motorcycle trainer, specializing in serious off road adventure riding.  He owns his own business which allows him a flexible schedule to go on our adventures with us.  When he is not at work or home with his wife of 20 years and 3 kids; he can be found riding dirt bikes over the mountains during snow storms, blasting across the desert a half day's ride from the nearest road, or flying radio control airplanes.  Or, he can be found enjoying his favorite Stella beer after a long day's ride.
Spencer Getty – Tour Guide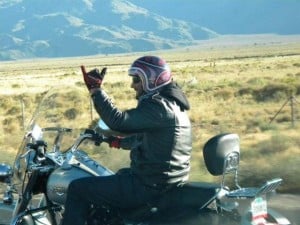 Spencer Getty is another old friend Wil met when Spencer started working at our Hot Rod Shop Sakowski Motors. Spencer can lead a tour, fabricate a motorcycle from scratch, paint a custom helmet ( see picture ), and he cooks a mean breakfast.  Spencer commutes LA on a Harley, but also rides duel sport on a KTM.  He has owned and commuted daily in the LA traffic in a 1956 Buick and 1928 hot rod.
Atwood – Van Driver – Research and Development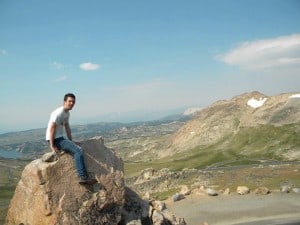 Atwood met Wil surfing and had worked in reservations in the past at Ride Free, as well as a tour van driver.  He is currently a van driver for Ride Free.  The picture to the left was taken on one of our Sturgis Motorcycle Tours we did after Atwood scaled the cliff to the top of the Bear Tooth Highway.  He has had a 1963 Oldsmobile, and drives around on his Harley bobber in his spare time.
Our Mission     Past Tour Pictures
A picture can say a thousand words, and we've got a lot of pictures.
Erin Sakowski – Accounting and Routes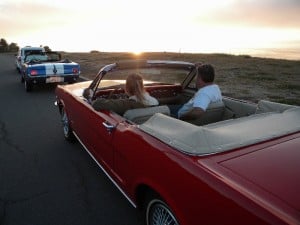 Erin runs the accounting and finances now, and used to help lead the tours back in the day with Wil and Erik. She has ridden all over the USA by motorcycle on the tours, and traveled  every nook of the country by Classic Car and Airstream Trailer. Her longest trip exploring the country in one stretch was a 4 1/2 month 18,000 mile adventure per 1964 Buick Convertible and  vintage 1962 Airstream with her sister.  She has also been known to drive around on a vintage Vespa back in the day.  Erin has used for many years a 1950 Ford to commute on the Los Angeles freeways as her daily driver and family car.
Brian – Tour Guide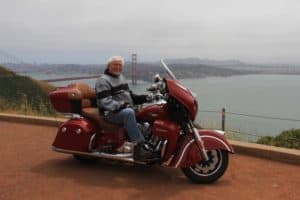 It gives me great pleasure to be a working member of the Ride Free team.
I was born and raised in Southern California near the ocean. In my younger days I was a surfer
and scuba diver. The California waters were my paradise. I started riding motorcycles when
I was 17, loving the feel of the wind rushing through my hair (which I still have after all these
years) and the feel of being free and alive while cruising the roads. My first motorcycle was a
Honda 250 Scrambler which I bought in Hawaii and shipped back to the mainland. I continue
to enjoy the open road on my Yamaha V-Star 1100 having done many trips up and down the
State of California. During my life I have traveled extensively throughout the western United
States and have met great people and learned much about the different cultures of the places
I have visited. I spent 31 years as a firefighter and now I am enjoying retirement. Retirement
has afforded me the time to travel and work in areas that I really enjoy. I am looking forward to
the day we can spend a week or two together on the open road, seeing the sights that I have
learned to love. RIDE FREE!
Jeff – Tour Guide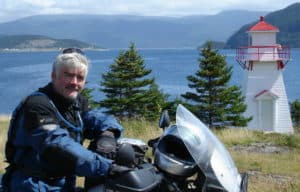 The picture is in Newfoundland when Jeff was coming home from doing the Trans-Labrador Highway. It is the longest unpaved route in North America at over 500 miles. Runs from near Quebec, up thru Labrador, and down to Newfoundland.  Jeff is one of Bobby's good riding friends, so it was only natural that he joined our adventures.
Jeff  is a life-long traveler, which started shortly after he was born in Munich, Germany.
Throughout his military career he and his wife have ridden and explored the world, wherever they lived.
He is retired now, but still traveling and finding new places to share with fellow riders. He has literally
ridden around the world on his BMW and loves to ride, meet people from other lands, and share the
fellowship of the road. He has led private tours for friends, all over Europe and even into Russia, but still
believes that the USA has so many incredible places that he wants to help share it with the world. Jeff longest adventure as a tour guide was from Istanbul, Turkey to Xian, China.  He is also a bit of a mechanic, a juggler, and a great story-teller.
He has ridden in at least 57 countries on 5 continents. He has over 400,000 miles of riding on all his bikes (390,000+ on my three BMWs).  He has
ridden in every state except Hawaii, and has ridden from Prudhoe Bay, Alaska to the Darien Gap in Panama. He has some vintage Matchless, BMW, and Harley-Davidson bikes in his  "Classic Bike Pool Hall" where he hosts a vintage bike night.  And he has been married to a wonderful woman for 15 years.
"The one thing that might sum me up better than anything would be my philosophy that I have always seemed to seek out others whom have traveled abroad as well.  I honestly believe that the more someone has traveled the better a human being they become, because they are more understanding of the differences among others.  Travelers, regardless of their mode of transportation, seem to me to be more compassionate, understanding, inquisitive, and have a sense of joy for life that others haven't found yet."
Karl – Photographer – Tour Guide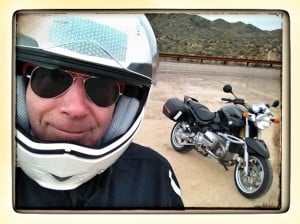 Karl loves vintage air cooled BMW motorcycles having owned at least 13, and has traveled America in vintage Airstream trailers.   He drove coast to coast across American in a classic 1950 Chevy pickup truck, and still owns a classic truck. He has also known Wil and Erin for around 20 years.
After being ensconced in a photo studio for over a decade in NYC and over a decade in Virginia creating photographs of "things" ….
 jewelry, cosmetics, food, there came a time when Karl Steinbrenner had an epiphany. He needed to bust  out.
And so he did.    Your group can choose to add Karl to your tour for top professional photos and video.
No longer content to make images within the confines of a box, indoors in the studio, he began to work with people out in the world.
Real people too, not just models. There was no going back.
In the last decade Karl has been fortunate to have had clients request that he photograph in Egypt, China, Amsterdam, Australia, New Zealand and Fiji.
When not actually on assignment he has taken his 1957 Airstream trailer to nearly every National Park in the U.S. and slept in countless truck stops,
rest stops, and small towns as well.   He photographs constantly.
His passion is for recording people, both on job such as surgeons intensely involved in a surgical procedure, long shoremen
unloading steel containers hundreds of feet above the deck using unwieldy cranes and off the job, folks touring Europe via the Rhine and the Danube,
others camel riding around the Great Pyramids and snorkeling the Great Barrier Reef.
His love of motorcycling has also led to many adventures. Usually however he keeps both hands on the handle bars and both eyes on the road.
Working with the Ride Free team will be a fantastic opportunity; to photograph other lovers of the great outdoors pursuing their passions all the while
 steeped in great scenery and in good company.  It will allow Ride Free to  bring new technologies such as remote controlled cameras positioned in unusual
vantage points,  motorcycle or helmet-mounted video cameras and even time lapse imagery, to record the wonderful adventures and at destinations that are
truly awe inspiring in every respect.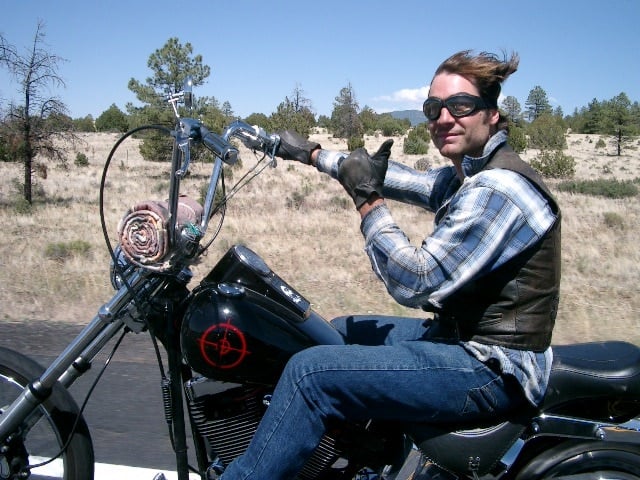 Ride Free was first started in 1993.  We were the first in the USA to coin terms like "Kicks on 66" in relation to motorcycle tours in the USA, and "California Dreaming Motorcycle Tours". There was NO motorcycle tour industry like today, or at all when Ride Free started.  We established many of the routes that are used in by the multitudes of motorcycle tour companies today.   Ride Free was a pioneer in the motorcycle tour industry in the USA.
Check Out All Motorcycle Tours
Check out what some of the Ride Free Alumni have to say about their experiences on the road in our Testimonials.