Riding with Ride Free brought
back all kinds of memories.
I LOVED THE TOUR
- Elmer "Ironman", Alaska, USA
Riding with Ride Free brought back all kinds of memories.
I LOVED THE TOUR.
- Elmer "Ironman", Alaska, USA
Riding on your tour was a
SENSATIONAL EXPERIENCE.
- Julie Tran, Los Angeles, USA
The tour I did with Ride Free was one of the
BEST MOMENTS OF MY LIFE.
- Fabien "Speedo" Graille, France
The Ride Free Tour was the
BEST TRIP OF MY LIFE.
- Eric "Champion du monde"
Thefaine, France
Route 66
Thank you for
THE BEST VACATION EVER.
– Bill and Judy Gore, Australia


THE TEAM – Tour Guides and Staff
We are the OLDEST MOTORCYCLE TOUR COMPANY IN THE USA, since 1993. We are not the largest, fanciest, or most corporate tour company; we are a tight group of friends who love taking you on tour and making new friends from all over the world. Ride Free is a Fully Insured Tour Company.
A picture can say a thousand words, and we've got a lot of pictures.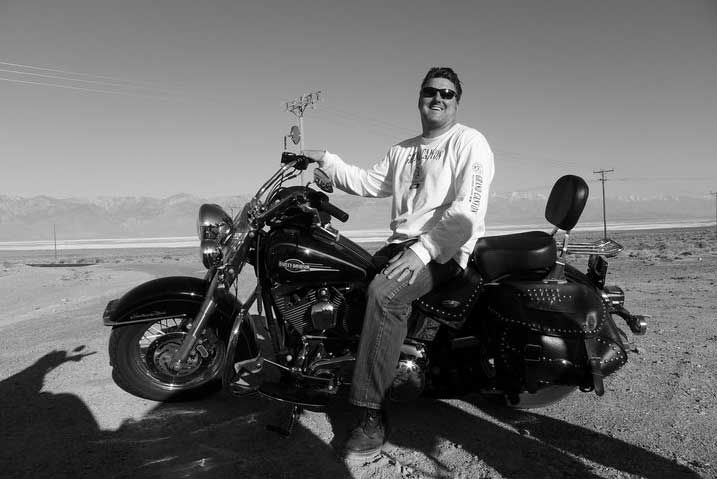 Mechanic, Guide, Sales, Owner
When Wil is not on tour, he is running his Classic Car and Motorcycle Hot Rod Shop and Dealership Sakowski Motors. He finds cars and motorcycles then ships them to people Worldwide. He is also a mechanic prepping our fleet of Ride Free Motorcycles and Classic Car Rentals. Sakowski Motors builds and repairs classic cars, hot rods, motorcycles, and customs; and supplies picture cars for Hollywood.  "I go on tour and am part of RIDE FREE and Sakowski Motors because I love the adventure and meeting incredible people from around the world, and being part of making people's dreams come true. It is an honor and privilege for someone to trust us with their adventure or classic car."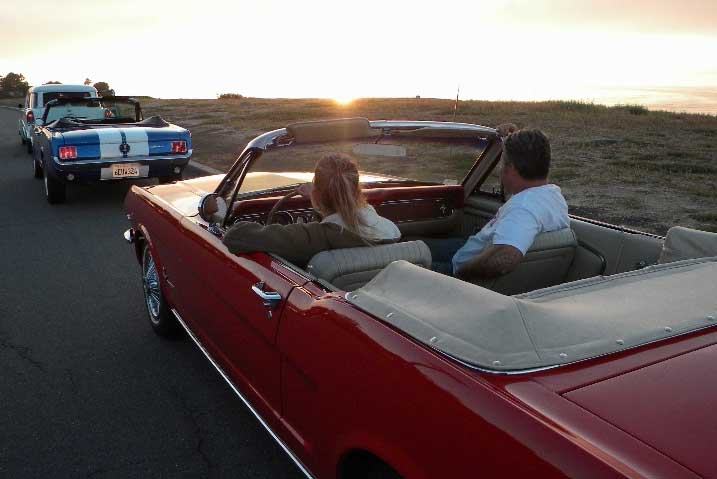 Accounting and Routes
Erin runs the accounting and finances now, and used to help lead the tours back in the day with Wil and Erik. She has ridden all over the USA by motorcycle on the tours, and traveled every nook of the country by Classic Car and Airstream Trailer. Her longest trip exploring the country in one stretch was a 4 1/2 month 18,000 mile adventure per 1964 Buick Convertible and vintage 1962 Airstream with her sister. She has also been known to drive around on a vintage Vespa back in the day. Erin has used for many years a 1950 Ford to commute on the Los Angeles freeways as her daily driver and family car.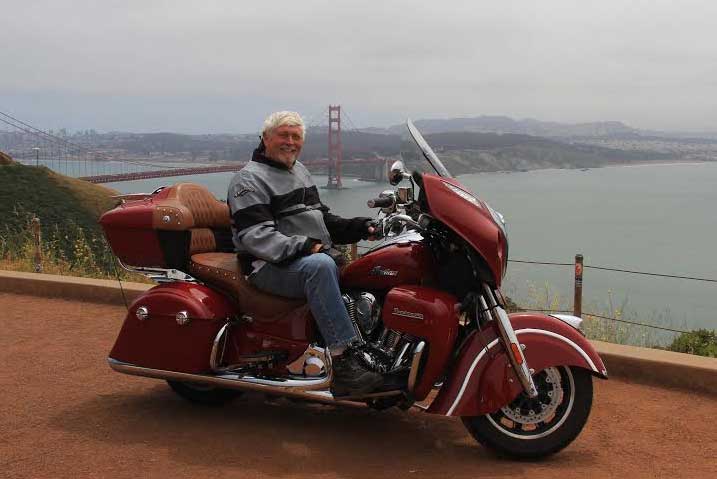 Tour Guide
It gives me great pleasure to be a working member of the Ride Free team. I was born and raised in Southern California near the ocean. In my younger days I was a surfer and scuba diver. The California waters were my paradise. I started riding motorcycles when I was 17, loving the feel of the wind rushing through my hair (which I still have after all these years) and the feel of being free and alive while cruising the roads. My first motorcycle was a Honda 250 Scrambler which I bought in Hawaii and shipped back to the mainland. I continue to enjoy the open road on my Yamaha V-Star 1100 having done many trips up and down the State of California.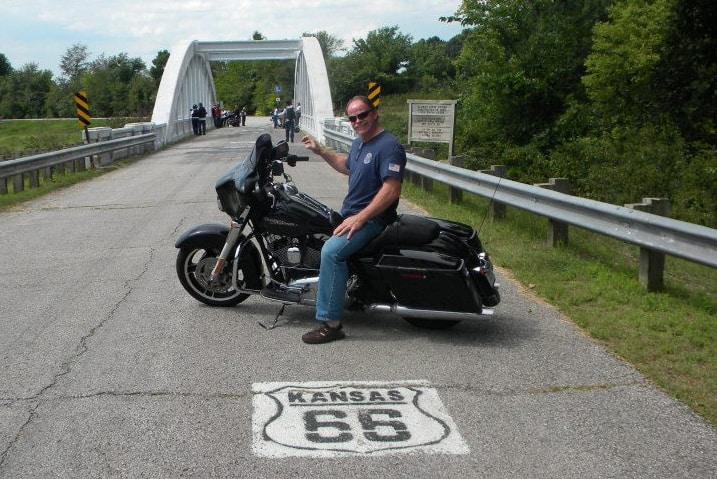 Tour Guide and Van Driver
Andy is a retired California firefighter and captain of 29 years. He has been happily married for 26 years and has 3 boys. Since retiring from being a firefighter, he has become a local handyman in his community. He enjoys fitness and being fit (carried from high school and college football days) by utilizing the gym and mountain biking. He also enjoys backpacking, camping, golfing, boating, ATVs and traveling adventures. He has owned motorcycles throughout his life. His first mode of transportation was a Honda CB350 and his most recent a Kawasaki KLR 650. He has also owned a Honda CB750, a Honda Shadow 650, a Honda Goldwing Aspencade, and a Honda VTX 1800.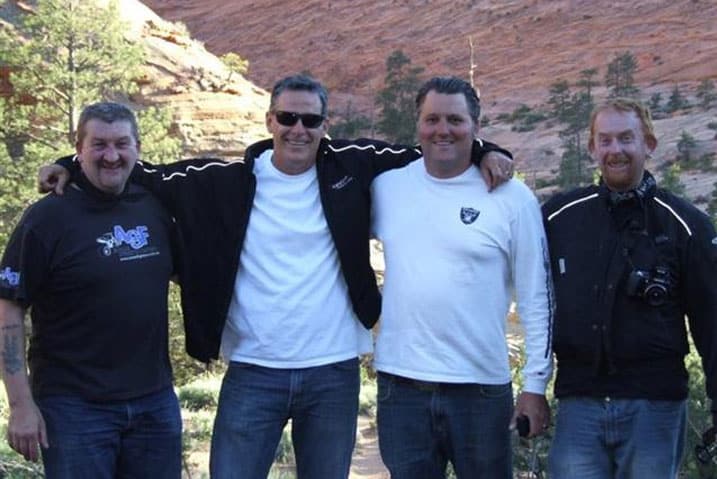 Tour Guide
Bobby (sunglasses) is one of Wil's oldest friends. They make a great team on the road. He has lived both on the east coast and in Los Angeles, commuting by bike on the LA Freeways. He has explored the USA by classic car as well as motorcycle. Bobby has also had many classic cars as his only daily transportation. A 1955 Chevy Bel Air and a 1959 Chevy Apache truck. He enjoys riding motorcycles, photography, being a musician, and painting. Bobby owns and runs the Sol Cooper Art Gallery. But he also restores old buildings, and used to play rugby. Bobby is a great guy to spend time with on the side of the road. You always have a nice time hanging out with Bobby. A ride free rider favorite.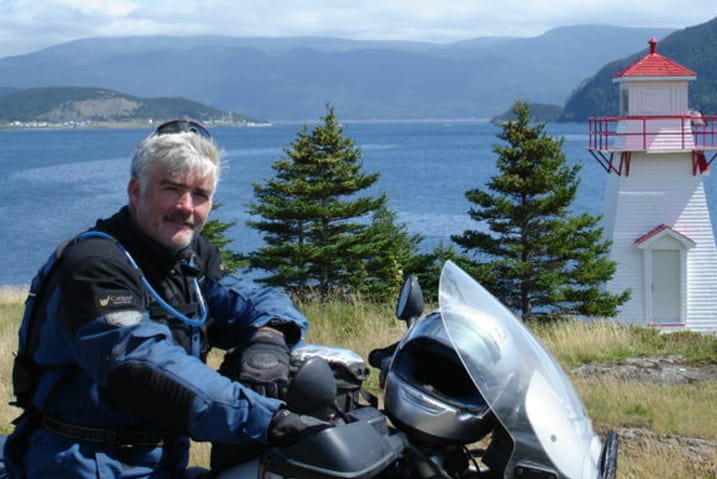 Tour Guide
picture is in Newfoundland when Jeff was coming home from doing the Trans-Labrador Highway. It is the longest unpaved route in North America at over 500 miles. Runs from near Quebec, up thru Labrador, and down to Newfoundland. Jeff is one of Bobby's good riding friends, so it was only natural that he joined our adventures. Jeff is a life-long traveler, which started shortly after he was born in Munich, Germany. Throughout his military career he and his wife have ridden and explored the world, wherever they lived. He is retired now, but still traveling and finding new places to share with fellow riders.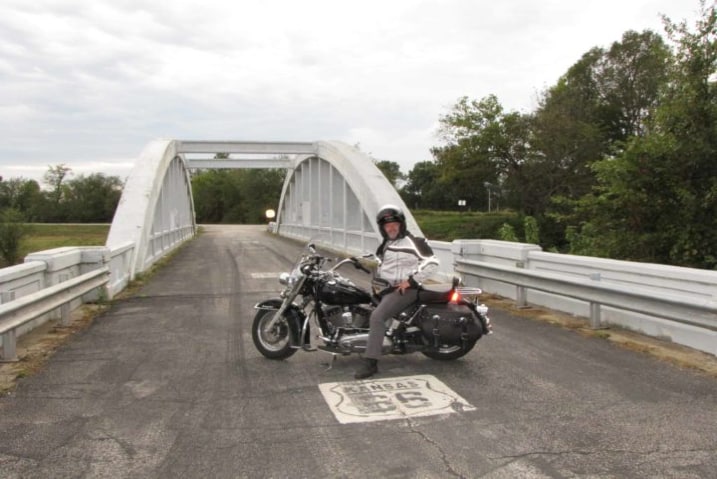 Tour Guide
Jeff​ ​has been an avid motorcyclist since childhood. He's competed in most types of off-road competitions and has been a member of the Orange County Motorcycle Club since 1979. It's the fifth oldest motorcycle club in the US and he has served as treasurer since 1986. Jeff worked in Emergency Management in California for over 30 years. He's been a Firefighter, Engineer, Paramedic and Fire Captain. Jeff's been married to his wife Diane for 35 years. He's enjoying his retirement traveling, fishing, hunting and golfing.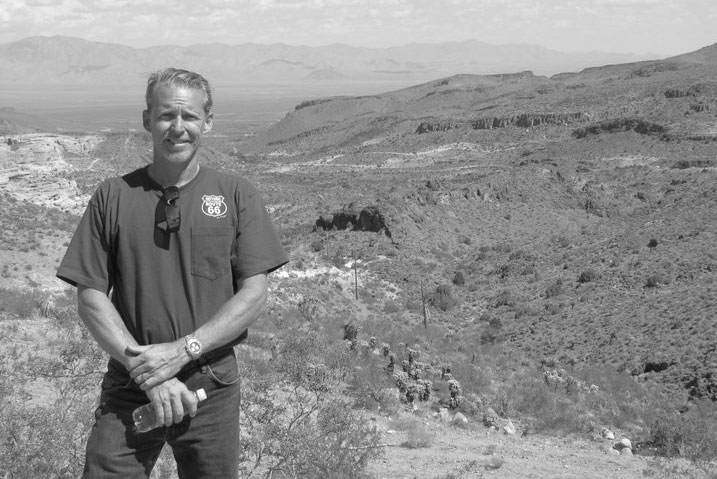 Tour Guide
Sam is a California native that has been riding motorcycles around California and the USA for 41 years. He has been a professional tour guide for over 5 years. He is also a professional motorcycle trainer, specializing in serious off road adventure riding. He owns his own business which allows him a flexible schedule to go on our adventures with us. When he is not at work or home with his wife of 20 years and 3 kids; he can be found riding dirt bikes over the mountains during snow storms, blasting across the desert a half day's ride from the nearest road, or flying radio control airplanes. Or, he can be found enjoying his favorite Stella beer after a long day's ride.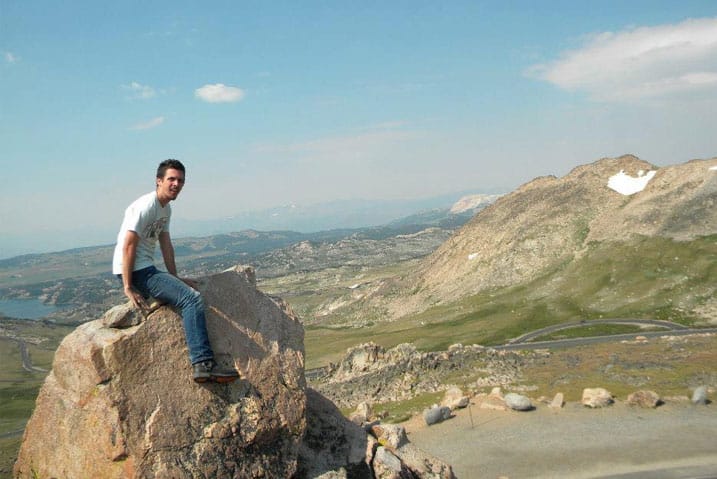 Van Driver – Research and Development
Atwood met Wil surfing and had worked in reservations in the past at Ride Free, as well as a tour van driver. He is currently a van driver for Ride Free. The picture to the left was taken on one of our Sturgis Motorcycle Tours we did after Atwood scaled the cliff to the top of the Bear Tooth Highway. He has had a 1963 Oldsmobile, and drives around on his Harley bobber in his spare time.
Ride Free was first started in 1993. We were the first in the USA to coin terms like "Kicks on 66" in relation to motorcycle tours in the USA, and "California Dreaming Motorcycle Tours". There was NO motorcycle tour industry like today, or at all when Ride Free started. We established many of the routes that are used in by the multitudes of motorcycle tour companies today. Ride Free was a pioneer in the motorcycle tour industry in the USA.
Check out what some of the Ride Free Alumni have to say about their experiences on the road in our Testimonials.
Our RideFree experience was an adventure of epic proportions. With the guidance of Wil and strategic planning, we managed to do a self-guided tour from LA to Yosemite National park,... read more through San Francisco and back down to LA in 5 days. It was a trip of a lifetime and I can't wait to hit the road again soon."

Read my full blog and story here on my website, NavigatorNick

Nick S


4/24/2020

Nathan Peach ( Overseal, Derbyshire, United Kingdom ) Just recently completed a Ride Free organised tour of Northern California, me and my buddy hatched an idea to go... read more and have an adventure in America whilst still fit and able enough to not be plagued with...More

nathanp265


11/11/2019

Wil and Erin at Ride Free organised our whole trip along route 66 then the coast road to San Francisco. A self guided driving tour we did with our friends.... read more And taking in some of the natural wonders as well like the Grand Canyon &...More

Andrew H


10/26/2019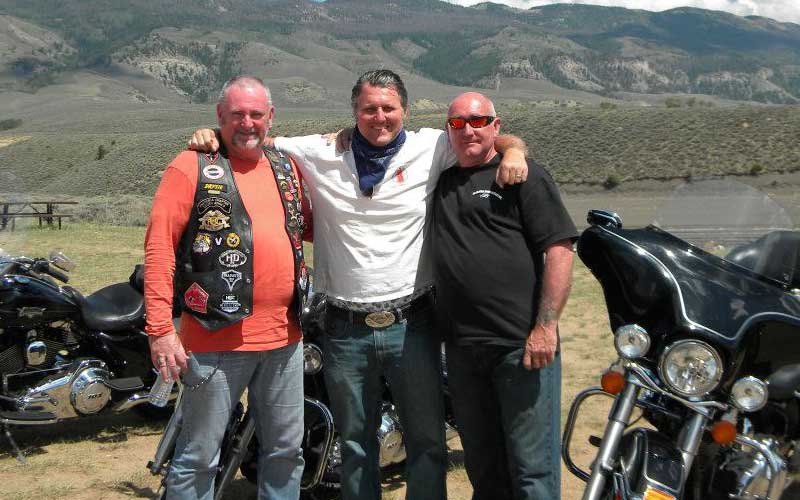 "The Greatest Trip of my life!"
Hello Wil and Erin. Just a short note to thank you for the 'BEST VACATION EVER'. Both Brian and Andy were exceptionally professional and it is fair to say that that trip would not have been as good without the professional and friendly banter between the group and the guides. They were well able to cater for the differences in the group and this aided the holiday. The locations, lodgings and roads traveled matched and, sometimes, exceeded our expectations. On at least two occasions the accommodations were part of our dreams. ( Log cabin on a lake ) Read More
© 2019 Ride Free Motorcycle Tours
© 2019 Ride Free Motorcycle Tours