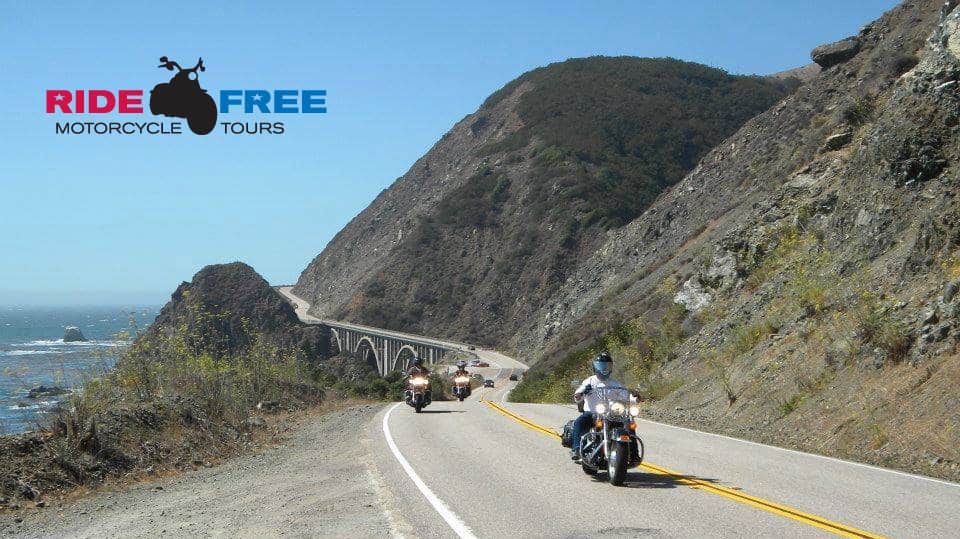 Guided Motorcycle Tours Route 66, California, Blues Tour, Grand Canyon, Dual Sport, Sturgis, American Music
RENT Harley Davidson Motorcycle USA, Honda, BMW, Indian
Self Drive Motorcycle or Car Tours Route 66, Custom, Any of Our Tours, Anywhere in USA, California, East Coast
Late Model Muscle Car Tour or Rentals Route 66, California, Grand Canyon, Blues Tour, Montana-Wyoming, East Coast
We are the OLDEST MOTORCYCLE TOUR COMPANY IN THE USA, since 1993. We are not the largest, fanciest, or most corporate tour company; we are a tight group of friends who love taking you on tour and making new friends from all over the world. Ride Free is a Fully Insured Tour Company.
The Team CONTACT US Testimonials Pictures Mission
Muscle Cars and Exotics Classic Car Tours Classic Car Rental Our Classic Cars Late Model Mustangs
LOVE THE LIFE YOU LIVE, AND LIVE THE LIFE YOU LOVE! Come Ride Free with us for an experience that will change your life. CONTACT US
PICTURES and VIDEOS These will show what Ride Free is truly all about
Guided Motorcycle Tour: motorcycle, lodging, Gas, Guide on Motorcycle, Support truck with guide, Food option available
Self Drive / Self Guided Motorcycle Tours : motorcycle, lodging, route, day to day itinerary, activities, and highlights
Ride Free across the Great Western Frontier on a late model Harley Davidson or your favorite two wheeled motorbike cruiser as we trace a path through American history. From the bright lights of Hollywood and Las Vegas, to the California Coastline Pacific Coast Highway, to the awe inspiring vastness of Death Valley and the Grand Canyon. Ride Free Motorcycle Tours delivers an unforgettable experience that will leave you dreaming of a new life on the road.
GUIDED TOUR FAQ'S FREQUENTLY ASKED QUESTIONS
SELF-DRIVE TOUR FAQ'S FREQUENTLY ASKED QUESTIONS
GUIDED MOTORCYCLE TOURS USA (Click For Tours Page)

Optional meal plan available on some tours, meals not included
Breakfast only included on Chicago to LA Tour
Lodging, gas, park fees
We ride a Harley Davidson with you as part of the group
All you need to bring is a love of the open road and a free spirit.
We provide a group leader on a bike
Support Vehicle with second guide/mechanic to carry:
Luggage, drinks, snacks, supplies, emergency supplies,tools, etc..

To transport bike in case of breakdown to nearest Harley Dealer, or fix if possible.

We never leave anyone behind on their own.

Optional spare motorcycle and trailer for bikes
GUIDED TOUR FAQ'S FREQUENTLY ASKED QUESTIONS

SELF GUIDED MOTORCYCLE TOURS USA
Ultimate personal self drive service, sharing our experience with you.
Leave from Los Angeles, California, Chicago, or anywhere in the USA
We Skype with you and personally review your tour preparation and daily route. We are on your team.
Self Drive = What's included: motorcycle, lodging, route, day to day itinerary, activites and highlights to do and see along the way and at your destination, help choosing the best route for you, help and support before, during, and after your adventure, trip planning help.
Choose one of our Listed Tours to be Self Drive, or we can make you a custom tour.
SELF-DRIVE TOUR FAQ'S FREQUENTLY ASKED QUESTIONS
HARLEY DAVIDSON MOTORCYCLE RENTALS USA
Rent Motorcycles in the USA: Harley Davidson, Honda, Indian, BMW, Triumph
We can arrange your bike pick up in Los Angeles, California, or anywhere in the USA, and drop off across America.
MISSION STATEMENT
Ride Free Motorcycle Guided Tours is not another Harley Davidson motorcycle rental shop, nor is it a sleep-at-night, and ride-a-loop every day tour. This ride is designed to change your life. It is about life on the road, meeting people, and exploring your own mind as you do something you love — ride. Our guided tours are designed to allow you to touch upon the freedom American bikers feel while on the road.
This is your chance to unplug, and live in the moment. Live in the present, on the road. When do you ever get to do that? We are a small personal guided motorcycle tour company, that loves our time on the road. Being on tour with us is being on the road with your friends. Ride Free Motorcycle Tours has become a meeting point for riders from around the world. Tour participants have come from countries including: The United Kingdom — England, Malaysia, Wales, Scotland, Ireland, Japan, Thailand, The Netherlands, Australia, Algeria, New Zealand, Italy, Kenya, Taiwan, Brazil, France, Germany, Norway, Vietnam, Belgium, Brazil, Spain, and the USA. You might know how to ride a cruiser or motorbike around town, but when you hit the road with a group of other bikers the whole atmosphere is different. Being on the road. Out for adventure. See what comes our way. Our tours are well planned trips, but not so regimented that there is no adventure. There is nothing like being on the open road out for adventure. Let's hit the road, and leave it all behind. All you have to do is choose to make your dream of riding Chicago to Los Angeles on The Mother Road Route 66, Sturgis, ride down Pacific Coast Highway in California, or any other motorcycle tour a reality. We leave from one place and stay in a different city, town, or oasis every night. This is the real thing, life on the road, without as many dangers that follow a solo rider. I can't stress enough what an incredible group of people come on our tours. While we do attract some novice motorcycle riders also, it is amazing how many highly experienced seasoned world riders we attract. And, how many return with their friends to share riding through Death Valley on a Harley Davidson with their friends. They have planned their own motorcycle vacation tour before, and know the value of not having to worry about a thing before the tour, or while on it. Just Ride Free! Our motorbike holidays consistently attract the best people to be on the road and a trip with. I can't wait to take so many people up on the offer to cruise their home state or country with them one day. We provide a support van to carry: luggage, drinks, snacks, support gear, emergency supplies, tired riders, etc… (Are you interested yet?) Anyone can ride a bike, but there is more out there. Come join us for your motorbike holiday. We will have a blast. We handle it all, and answer any questions or concerns you might have. All you have to do is show up. Check out what some of the Ride Free Alumni have to say about their experiences on the road in our Testimonials. Contact us 1