Thank you for
THE BEST VACATION EVER.
– Bill and Judy Gore, Australia
Thank you for
THE BEST VACATION EVER.
– Bill and Judy Gore, Australia
The tour I did with Ride Free was one of the
BEST MOMENTS OF MY LIFE.
- Fabien "Speedo" Graille, France
Riding with Ride Free brought back all kinds of memories.
I LOVED THE TOUR.
- Elmer "Ironman", Alaska, USA
Riding on your tour was a
SENSATIONAL EXPERIENCE.
- Julie Tran, Los Angeles, USA
The Ride Free Tour was the
BEST TRIP OF MY LIFE.
- Eric "Champion du monde"
Thefaine, France
Route 66
RENT MOTORCYCLE OTHER CITIES IN USA AND WOLRD


Why Choose Our Motorcycle Rental?
Arizona
Phoenix Area
Mesa
Phoenix
Scottsdale
Flagstaff
Arkansas
Fort Smith
Rogers
California
Los Angeles Area
Bartels' 
Harbor City
Los Angeles
Long Beach *
Montclair
Ontario
Lancaster
Santa Monica / Marina Del Rey
Orange County Area
Fullerton
Irvine
Newport Beach
Riverside Area
Palm Springs
Palm Springs North
Redding
Carmel
Fresno
San Diego Area
San Diego
San Diego – Coronado Beach
San Marcos
San Francisco Area
San Francisco
San Jose
Oakland
San Francisco BMW & Honda
Treasure Island *
Vacaville
Colorado
Denver Area
Denver
Denver BMW & Triumph
Greeley
Durango
Grand Junction Area
Grand Junction
Connecticut
East Hartford
Ellington
Bristol
Georgia
Atlanta Area
Atlanta – North
Morrow
Roswell
Atlanta
Florida
Orlando Area
Clermont
Daytona
Kissimmee
Leesburg
New Smyrna
Orlando
Orlando East
Tampa
Sanford
Miami Area
Fort Myers
Miami
Fort Lauderdale
Miami BMW & Honda
Sunrise
Gainesville
Homosassa
Jacksonville – Orange Park
Jacksonville 
Jacksonville At Regency
Panama City Beach
Sarasota
Pensacola
Hawaii
Maui Area
Maui
Maui Kihei
Illinois
Chicago Area
Chicago
Chicago Countryside
DeKalb
Ottawa
Palatine
Saint Charles
Villa Park
Woodstock
Iowa
Ames
Des Moines
Sioux City
Kentucky
Cincinnati
Lexington
Louisiana
Alexandria
Lafayette
New Orleans Area
Houma
New Orleans
Slidell
New Orleans Mid City
Maryland
Baltimore Area
Baltimore
Crofton
Massachusetts
Boston
Foxboro
Foxboro North
Michigan
Cement City
Farmington Hills
Minnesota
Alexandria MN
Delano
Eden Prairie
Faribault
Mankato
Saint Paul
Elk River
Missouri
Saint Charles
St. Joseph
Montana
Belgrade
Missoula
Billings
Nevada
Las Vegas Area
Las Vegas
Reno Area
Reno
New Hampshire
Concord
Laconia
Manchester
North Country
New Jersey
Bergen County
Lakewood
Lebanon
Long Branch
Morris Plains
Mount Ephraim
New Jersey Area
Newark – Belleville
New Mexico
Albuquerque Area
Albuquerque
New York
Arkport
Jamestown
Macedon
NY Woodstock
Nanuet
New Windsor
New York-Albany
Niagara Falls
Wurtsboro
New York Area
New York-Staten Island
New York-Howard Beach
North Carolina
Winterville
North Dakota
Minot
Williston
Ohio
Athens
Belmont
Dayton
Mansfield
Mentor
Wintersville
Youngstown
Columbus
Mantua
Mason
Sills BMW Motorcycle Rentals
Warren
Oklahoma
Moore
Oklahoma City
Pennsylvania
Orwigsburg
Steel City 
Lancaster 
Pittsburgh-Glenshaw
South Carolina
Rock Hill
Greenville
South Dakota
Rapid City
Sturgis
Tennessee
Knoxville Area
Knoxville
Pigeon Forge
Smoky Mountain H-D – Knoxville Airport
Memphis
Nashville Airport
Union City
Texas
Dallas Area
Allen
Austin
Burleson
Dallas
Fort Worth
San Antonio
San Antonio East
McAllen
Tyler
Utah
Salt Lake City Area
Lindon
Salt Lake City
Virginia
Roanoke
Washington Area
Washington D.C.
Washington
Seattle Area
North Cascades
Seattle
West Virginia
Nutter Fort
Triadelphia
Wisconsin
Appleton
Bonduel
Green Bay
Rice Lake
Chippewa Falls
Milwaukee Area
Madison
Milwaukee Airport
Milwaukee Downtown
Kenosha
Oconomowoc
Our RideFree experience was an adventure of epic proportions. With the guidance of Wil and strategic planning, we managed to do a self-guided tour from LA to Yosemite National park,... read more through San Francisco and back down to LA in 5 days. It was a trip of a lifetime and I can't wait to hit the road again soon."

Read my full blog and story here on my website, NavigatorNick

Nick S


4/24/2020

Nathan Peach ( Overseal, Derbyshire, United Kingdom ) Just recently completed a Ride Free organised tour of Northern California, me and my buddy hatched an idea to go... read more and have an adventure in America whilst still fit and able enough to not be plagued with...More

nathanp265


11/11/2019

Wil and Erin at Ride Free organised our whole trip along route 66 then the coast road to San Francisco. A self guided driving tour we did with our friends.... read more And taking in some of the natural wonders as well like the Grand Canyon &...More

Andrew H


10/26/2019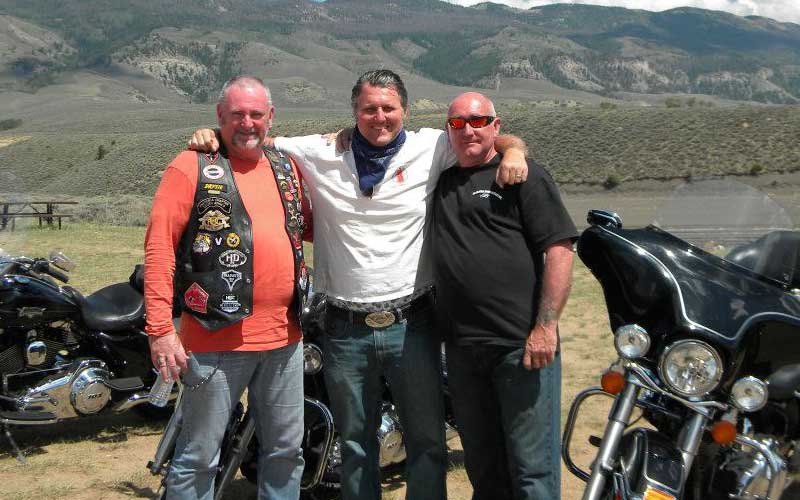 "The Greatest Trip of my life!"
Hello Wil and Erin. Just a short note to thank you for the 'BEST VACATION EVER'. Both Brian and Andy were exceptionally professional and it is fair to say that that trip would not have been as good without the professional and friendly banter between the group and the guides. They were well able to cater for the differences in the group and this aided the holiday. The locations, lodgings and roads traveled matched and, sometimes, exceeded our expectations. On at least two occasions the accommodations were part of our dreams. ( Log cabin on a lake ) Read More
© 2019 Ride Free Motorcycle Tours
© 2019 Ride Free Motorcycle Tours