Motorcycle Insurance Options


Guided Motorcycle Tours, Self Drive, or Rental 
RIDE FREE does NOT sell insurance or insurance waivers or supplemental liability insurance.  Nor is Ride Free renting you a motorcycle, but we will book your vacation and the rental itself will occur at the rental counter with our partner's rental company at pick up of the vehicle. 
Below are some examples of what our rental partners might provide, you will have a rental contract directly with those partners when you pick up you vehicle.
No insurance waiver included
Guided and Self Guided Pricing Info
On tours waivers are only charged on days of travel, not total amount of tour days.  Except for the San Francisco to LA tour, always use 2 less days than the advertised tour total days to calculate.
Example: 16 day tours have 14 travel days, so x 14 on selected waivers.

We are a Partner with the best Rental Companies in the world, at no extra cost to you.  You get the Ride Free personal service and Package, and our Rental Partners for the price of one.

Most rental companies maintain a 3 million dollar  liability insurance coverage at all locations. All insurance, coverage and waivers are subject to the express terms and conditions of the rental contract and do not include coverage for injury, personal property, or damage as the result of negligence such as illegal use or use of rental while under the influence of drugs or alcohol. Clients are required to contact the rental company pick-up station and file a Police Report within 48 hours of any damage or accident. Any damages to rented motorcycle without a police report is considered Renter's fault.
Below are the waivers and options with our most popular partner.  But some locations and partners we work with have different waiver options.
All insurance waiver options subject to change at any time depending on availability, and rental partner used, and location.
* PLEASE NOTE THAT SALES TAX IS IN ADDITION TO LISTED COVERAGE RATES, BASED ON LOCATION
Insurance and Protection Plans
INSURANCE POLICIES AND SURCHARGES
State mandatory liability insurance is included in your rental. Please check with your rental station which are the state requirements. You are not insured for Damage or Theft. Rental partners offer several options from upgrading your Liability or Damage Waiver. Please carefully check with the insurance provider. Because motorcycle rentals are considered an exotic rental most credit cards and insurance do not transfer the same way as they do with normal car rentals. PLEASE always check your credit company or insurance company for coverage.
WAIVER COVERAGE
All Theft and Damage Waivers and Supplemental Liability Insurance options are subject to the express terms and conditions of the rental contract and do not include coverage for injury, personal property, or damage as the result of negligence such as illegal use or use of rental while under the influence of drugs or alcohol. A Police Report is required for all damages or accidents. All damages to rented motorcycle without a police report will be considered to be at the fault of the Renter.
Supplemental Liability Insurance provides supplemental third-party liability insurance at limits excess of state-required minimum financial responsibility limits.
Please note that SLI is supplemental and secondary to all other available insurance where permitted by law.
SLI: SUPPLEMENT LIABILITY INSURANCE
Supplemental Liability Insurance * ONLY available for participating license USA locations
Rate
SLI - $300,000 Coverage
$19.98 / day
 
No Coverage purchased

VIP

 Vacation Interruption Protection plus Theft & Damage Waiver $25 per day

VIP-ZERO

 Vacation Interruption Protection plus Theft & Damage Waiver $35 per day
Damage Waiver
Include any and all accidental (non-negligent) damage to motorcycle and motorcycle accessories. *more details below
Renter pays
Full Retail Value of ALL damages
$2000 DEDUCTIBLE
Renter pays $2000
$0 DEDUCTIBLE
Renter pays $0
Theft Coverage
Includes Theft of Motorcycle and motorcycle accessories provided motorcycle was locked with all locks supplied by rental company. Does NOT include personal belongings left on motorcycle or in saddlebags.
Renter pays
Full Retail Value of Motorcycle
$5,000 DEDUCTIBLE
Renter pays Up to $5,000 per occurrence.
$1,000 DEDUCTIBLE
Renter pays Up to $1,000 per occurrence.
Vacation Interruption Protection (VIP)
In the event of a mechanical breakdown requiring the motorcycle to be in repair for more than 12 hours. Flat tires do not constitute a breakdown.
Refund of daily rental rate or a portion thereof
Renter is provided up to $35/day for a replacement rental + refund of the daily rate
Renter is provided up to $100/day for a replacement rental + refund of the daily rate
Personal Property Loss Protection In the event of theft or damage to personal property and belongings.
Not Included
Not Included
Renter is provided coverage up to $500 for replacement of personal property. A Police Report is required.
Additional Driver Renters are fully covered when exchanging rental motorcycles within your riding group.
Not Included
Not Included
Additional Renter(s) permitted to ride other rental motorcycles within group at no charge. Additional driver must sign rental agreement(s) at time of pick-up.
Flat Tire Coverage
Not Included
Not Included
Covers tire repair/ labor. Towing is covered up to an amount of $100 per occurrence.
SECURITY DEPOSIT **
$5,000 Deposit
$2,000 Deposit
$100 Deposit
SECURITY DEPOSIT
PERSONAL PROPERTY COVERAGE – VIP-ZERO
Personal Property Loss Protection as a result of a motor vehicle accident or theft while personal property is contained in the rented motorcycle: Provides coverage for the Renter & Authorized Driver, with a limit of $500.00 per rental. Proof of ownership of lost property and a Police Report acknowledging losses are required.
You understand that you will be charged the rate per day for a full day even if you don't have the Motorcycle the entire day.
There are some exclusions to this coverage which we feel you should know. Under VIP-ZERO, in the event of an accident, you will not be protected for Personal Property Loss or Damage:
If VIP-ZERO is not accepted at commencement of the rental or if you fail to pay the charges for VIP-ZERO
If you or an authorized driver operated the Motorcycle in violation of the Rental Agreement. Including, but not limited to, operating the motorcycle while legally intoxicated or under the influence of alcohol, drugs or other absorbed elements.
VIP-ZERO Personal Property Coverage does not cover loss by mysterious disappearance, nor does it cover:
Currency, Coins, Stamps, Deeds, Securities, Bullion, Tickets or Documents, CB radios, Cell Phones, Go Pro, Cameras, Radar Detectors, Guns, Merchandise for sale or Fine Art, Contact Lenses or Eyewear, Artificial Teeth and Limbs, Perishables or Animals.
Loss or damage caused by wear and tear, gradual deterioration, moths, vermin, inherent vice or damage sustained due to any process or while actually being worked upon and resulting therefrom, or while in the care, custody or control of any common carrier.
Loss caused by war or any act of war;
Transporting contraband or illegal trade;
Loss by nuclear reaction, radiation or radioactive contamination;
Loss or damage due to theft unless reported to Police.
All losses by theft must be reported to appropriate law enforcement authorities and a copy of the filed report must be presented to the rental office or they will not be covered. Coverage is excluded if the renter is in violation of the Rental Agreement.
Current Market value for claimed property will be deemed reasonable and acceptable for reimbursement under this coverage.
ROADSIDE ASSISTANCE
Roadside Assistance Coverage provides towing and roadside assistance by the rental company approved vendor if your motorcycle becomes inoperable. The benefits include emergency road service towing (within 30 miles of occurrence) emergency fuel delivery (up to 2 gallons) and jump start services. In purchasing the Roadside Assistance Coverage, we will waive the cost of any approved tow or road side assistance service unlimited.
MOTORCYCLE MODEL GUARANTEE
Any reservation made within 48 hours of pickup is subject to availability. Please call our store location to confirm. By choosing to take advantage of our Motorcycle Model Guaranteed, you can rest assured that the model you selected will be available upon your arrival. If you choose not to take advantage of this option, and in the event that your model of choice is not available, you will still receive a comparable model.
INTERNATIONAL LOCATIONS
Please Note:
Local laws may vary based on the country of your pick-up location. Please review the international versions
Insurance can vary in price and coverage from location to location, and might need to be custom quoted for your particular trip.
Our RideFree experience was an adventure of epic proportions. With the guidance of Wil and strategic planning, we managed to do a self-guided tour from LA to Yosemite National park,... read more through San Francisco and back down to LA in 5 days. It was a trip of a lifetime and I can't wait to hit the road again soon."

Read my full blog and story here on my website, NavigatorNick

Nick S


4/24/2020

Nathan Peach ( Overseal, Derbyshire, United Kingdom ) Just recently completed a Ride Free organised tour of Northern California, me and my buddy hatched an idea to go... read more and have an adventure in America whilst still fit and able enough to not be plagued with...More

nathanp265


11/11/2019

Wil and Erin at Ride Free organised our whole trip along route 66 then the coast road to San Francisco. A self guided driving tour we did with our friends.... read more And taking in some of the natural wonders as well like the Grand Canyon &...More

Andrew H


10/26/2019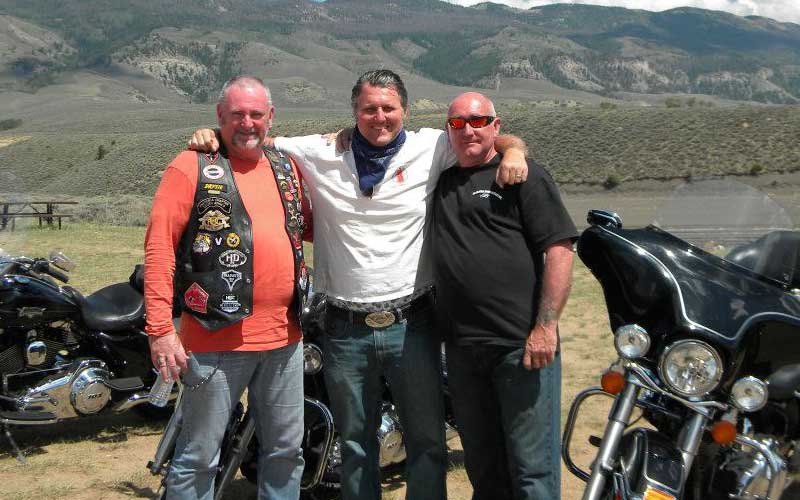 "The Greatest Trip of my life!"
Hello Wil and Erin. Just a short note to thank you for the 'BEST VACATION EVER'. Both Brian and Andy were exceptionally professional and it is fair to say that that trip would not have been as good without the professional and friendly banter between the group and the guides. They were well able to cater for the differences in the group and this aided the holiday. The locations, lodgings and roads traveled matched and, sometimes, exceeded our expectations. On at least two occasions the accommodations were part of our dreams. ( Log cabin on a lake ) Read More
© 2019 Ride Free Motorcycle Tours
© 2019 Ride Free Motorcycle Tours